The Launch of Product Topic Advanced Search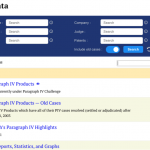 We are proud to announce the official Launch of the Product Topic Advanced Search .
New Addition to ParagraphFour.com
Since its inception, we have updated and modified ParagraphFour.com to ensure that subscribers can find what they need quickly and easily. The site has nearly 20 years of research in its database. The data include nearly 900 products, more than 5,100 court cases, and more than 500 IPR proceedings.
The volume of data created a need for an Advanced Search feature to supplement both the general search feature and the site layout designed for easy browsing.
Features
The Product Topic Advanced Search enables subscribers to find data quickly and allows them to cut data in different ways. The Advanced Search is easy-to-use and intuitive. It enables a simple search such as finding a product topic when a subscriber only knows its generic name. But it also can perform complex cross-sectional cuts of products, companies, judges, or courts.
The feature…
Includes 6 search fields that can be searched alone or filtered with another field
Autocompletes all field entries to prevent spelling errors and incomplete searches
Allows subscribers to search for all products or just those products that have pending court cases or IPR proceedings
To take the tour (on Youtube), just click the link below: