The ParagraphFour Book is Here!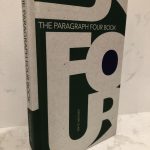 The ParagraphFour Book is Here!
I have compiled nearly 20 years of research Paragraph IV patent infringement cases and put it in one place — The ParagraphFour Book.
The ParagraphFour Book covers the essentials of the Hatch-Waxman Act, its history since 1984, current issues and data, and much more! The book is not a boring legal treatise. I have written it as an easy-to-read business book, perfect for those new to the PIV field as well as seasoned veterans.
The book includes:
The Hatch-Waxman Act Explained in easy-to-understand terms
Brand and Generic Product Lifecycles
The PIV Market from 1984-2020
Myths of the PIV Market
Settlements and the FTC
Inter Partes Reviews
Citizen Petitions
The Future of the PIV Market
You can read more about it, and download the Preface and first Chapter "What is PIV? by clicking on  The PIV Book button on the site or by clicking here.
Gregory Glass