Sandoz Hit with $39M Jury Verdict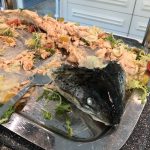 Like a salmon at the end of a buffet, decades-long PIV litigation over Latisse®(bimatoprost) Topical Solution came to a hard ending.
PIV Litigation since 2010
Back in 2010, several generic companies showed an interest in the eyelash growth product Latisse®(bimatoprost). Allergan subsequently filed nearly 20 PIV cases against five ANDA filers. The Court of Appeals for the Federal Circuit also got involved, rendering three opinions over a few patents. But the really messy litigation took place between ANDA filer Sandoz and Allergan. It also included patent-owner Duke University.
If Texas doesn't work, try North Carolina
After the dust had settled over the first set of PIV cases, Sandoz launched its generic product in December 2016. About six months later, Duke University filed its infringement suit against Sandoz and Alcon in Texas. The case involved Duke's 9,579,270 patent. Sandoz then filed a suit against Duke in North Carolina, claiming non-infringement and that the Duke case was a sham. After legal posturing and gyrations, the Texas court split the cases into two, sending defendant Alcon to Delaware (where it subsequently settled) and Sandoz to Colorado. Duke and Sandoz pressed on with its dispute, and the Court rejected that the case was a sham or anti-competitive.
The Colorado Jury Spoke
The case over the '270 patent was tried in front of a jury in Colorado. Typically, the presiding judge will rule on a PIV case, but in rare cases (say fewer than 5 times over the past 20 years), a jury will decide the outcome. In May, the jury rejected the three Sandoz defenses, and concluding that the Sandoz product infringed the '270 patent, the jury awarded $39M to Allergan and Duke with Allergan taking $37.7M and Duke $1.3M. In July, the Court tacked on another $90,000 onto the verdict. For perspective, according to the Novartis 2022 Annual Report, $39M is about 17% of the operating income of Sandoz, not a trivial amount. Novartis is looking to spin-off Sandoz from its business in 2023.
A few weeks ago, Sandoz filed its appeal. Most appeals are affirmed, and while we don't like to guess what will happen, its appeal may likely be affirmed along with its $39M verdict because a jury does not render an opinion like a judge does. A full Opinion provides the Court of Appeals more to consider for a possible error and reversal, but with a check-box jury form, it won't.